Congratulations to Konnor Nider! Yesterday at the Twin Valley League golf tournament in Washington he placed 11th, earning All-League honors. Great Job Konnor!

Good afternoon- Due to the forecast for significant rain and storms for Sat and Sunday, the 8th Grade Promotion and Class of '21 Graduation will be held inside the new gym on Saturday. Promotion starts at 11:30 and graduation starts at 1pm. Masks are required of all spectators, but are optional for members of the graduating senior class and 8th graders who will be spaced apart in the front of the stage. Also, temps will not be screened at the door. We will not be doing a reception line inside following the ceremonies, but following each respective ceremony, if it isn't raining, we will have fireworks outside to honor our 8th graders and seniors. Thank you.

The Onaga High School volleyball program is hosting a camp for the youth of Onaga this summer. The camp will take place Wednesday, July 14th, through Friday, July 16th. It will be divided into three sessions each day, one for grade school aged kids, one for junior high, and one for high school. The fee includes admission to the three-day camp and a t-shirt. The camp will be run by Onaga High School alum Kayla Josefiak. She is the Club Director and Head Coach for the Southern Plains Thunder Volleyball Club which is located in southwest Kansas. The camp will focus on individual skills to help Onaga student-athletes excel in all areas of Volleyball. If you have any questions about the camp, please feel free to contact Kayla at 785-456-4647, or email her at
kjosefiak20@gmail.com
. At the links below, you can find the registration form as well as the waiver for the camp. GO BUFFALOES!!! Registration
https://5il.co/so88
Waiver
https://5il.co/so87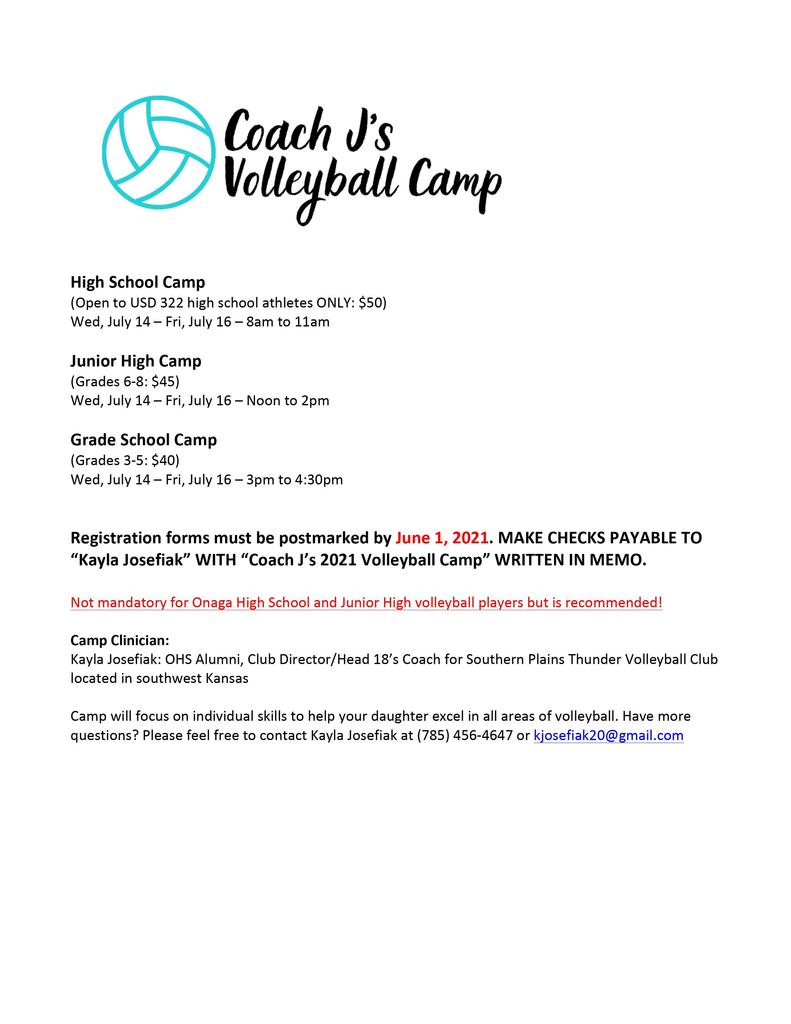 Last week "Music of the Night" was performed by the 5th-12th grade band and choir students at the Rosenfield Sports Complex. It was the start of a NEW Journey. The students have worked hard this year to improve their musical skills, learn concert etiquette, and enjoy music in its many forms. Mr. Hubbard has been very proud of these students that have grown to enjoy music in its entirety. USD 322 students are VERY capable of doing anything if they strive for EXCELLENCE. A quote by Aristotle: "We are what we repeatedly do. Excellence, then, is not an act, but a habit." Great work students and Mr. Hubbard!!!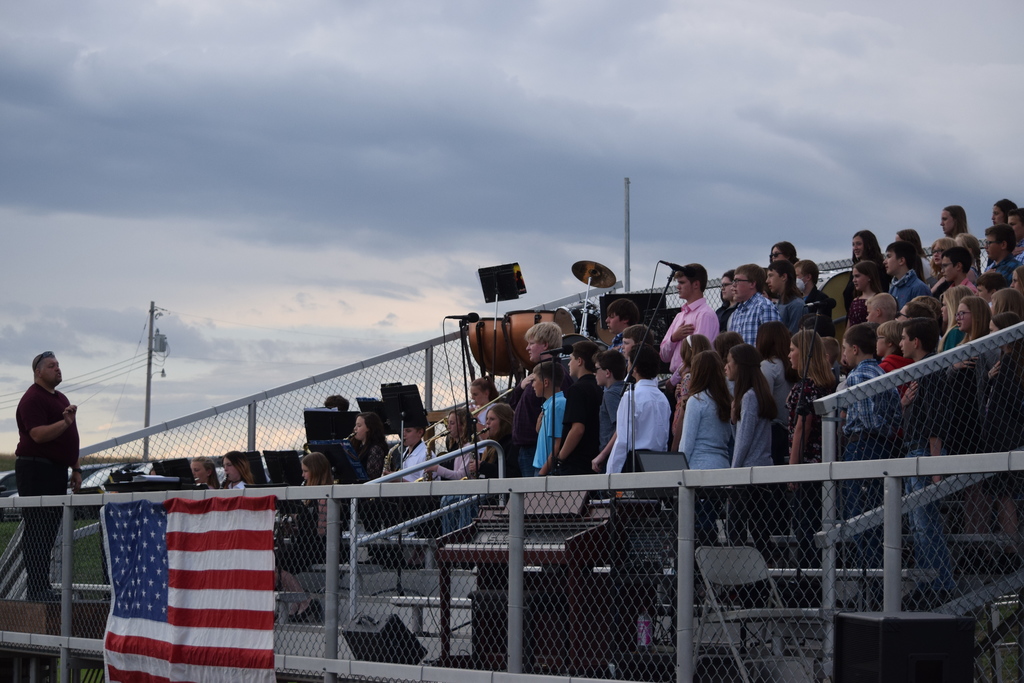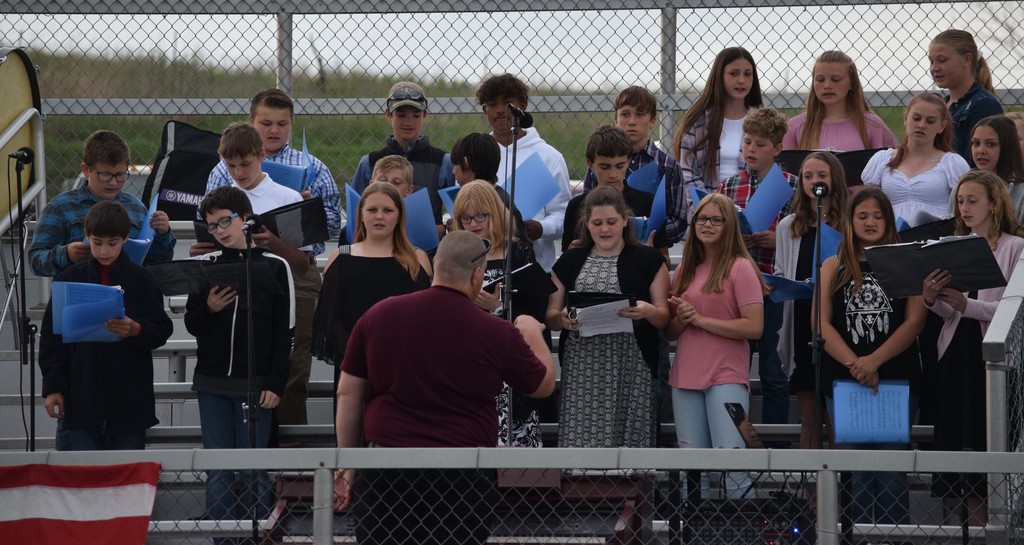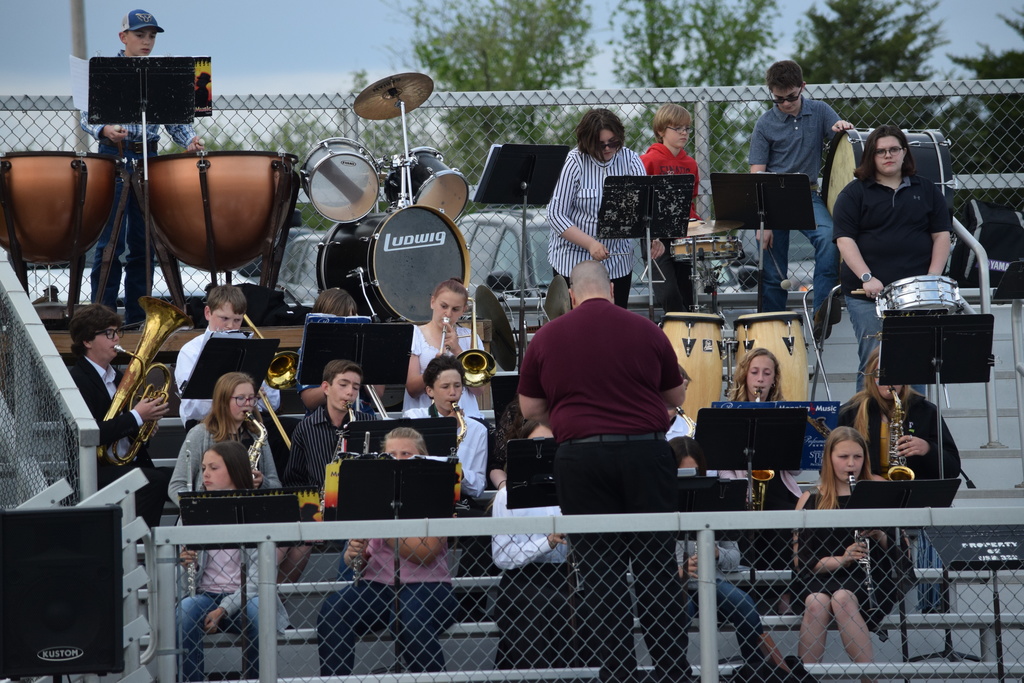 Good luck to the high school track and golf teams today as they both head to Washington for their respective league meets. The track team will begin field events at 1:00pm while the golf team tees off at 3:00pm. Good luck to all of our student-athletes today, go win the league, and GO BUFFALOES!!!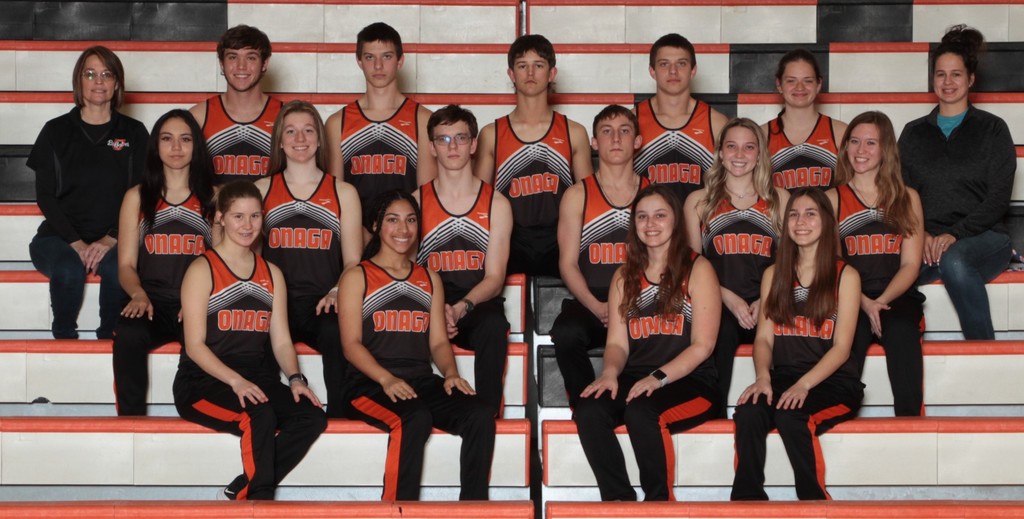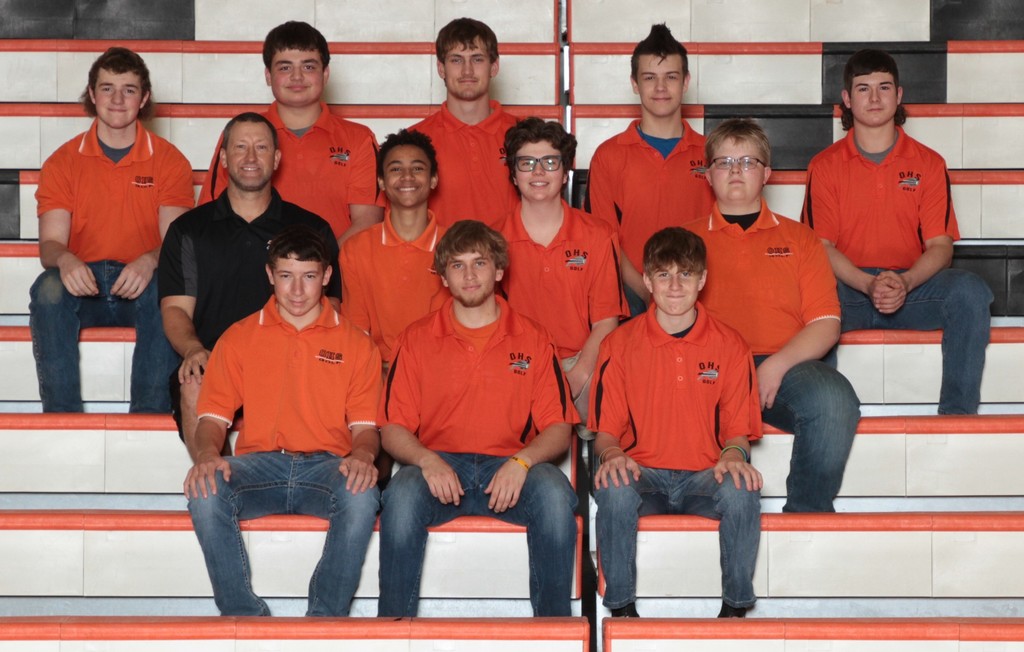 The 2021 Regional baseball and softball brackets have been set! The baseball team finished the regular season as the #4 seed and will play #5 seeded Doniphan West at 2:00pm on Monday, May 17th, at Maur Hill-Mount Academy in Atchison. Meanwhile, the softball team finished as the #5 seed and will play #4 seeded McLouth at 2:30pm on Monday. Their game will be at Riverside High School in Wathena. Good luck to both teams in the post season, as they begin their journey to the state tournament! GO BUFFALOES!!!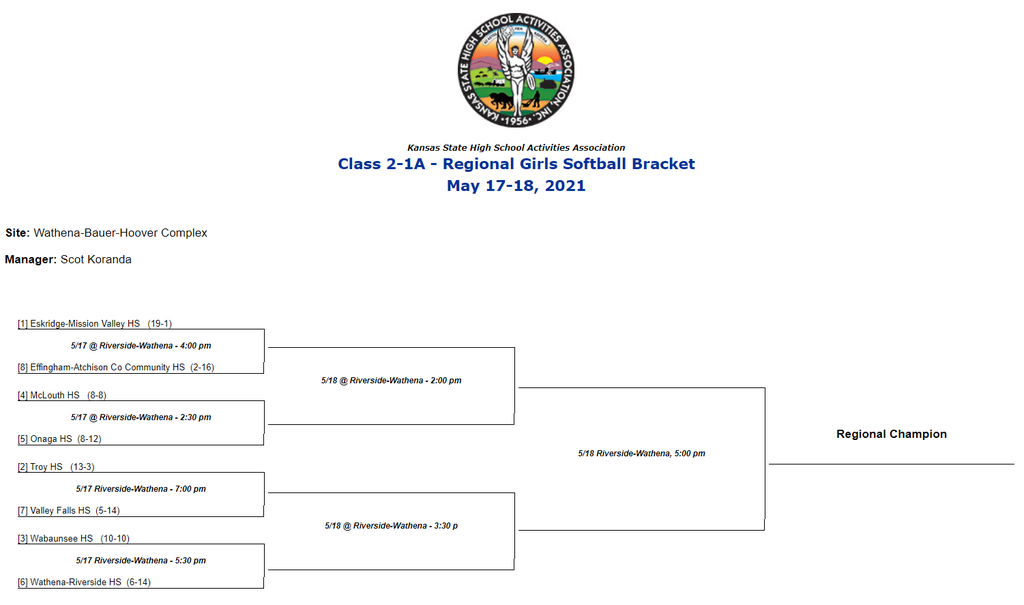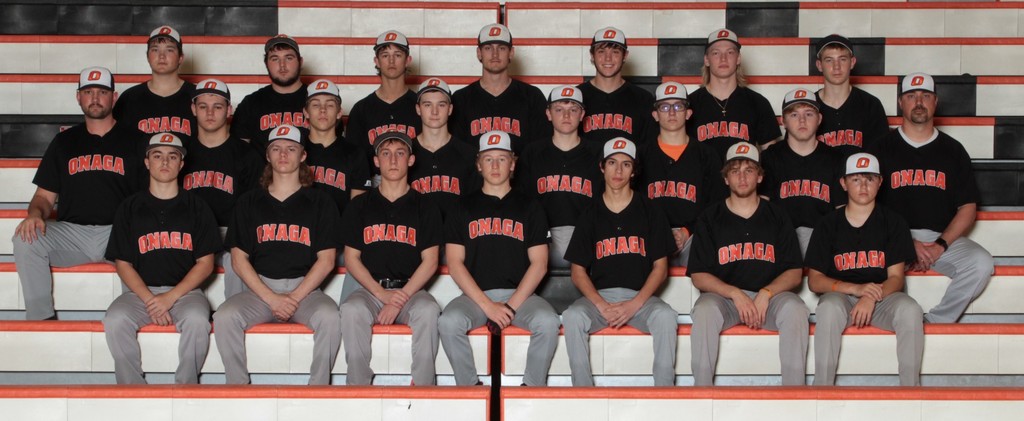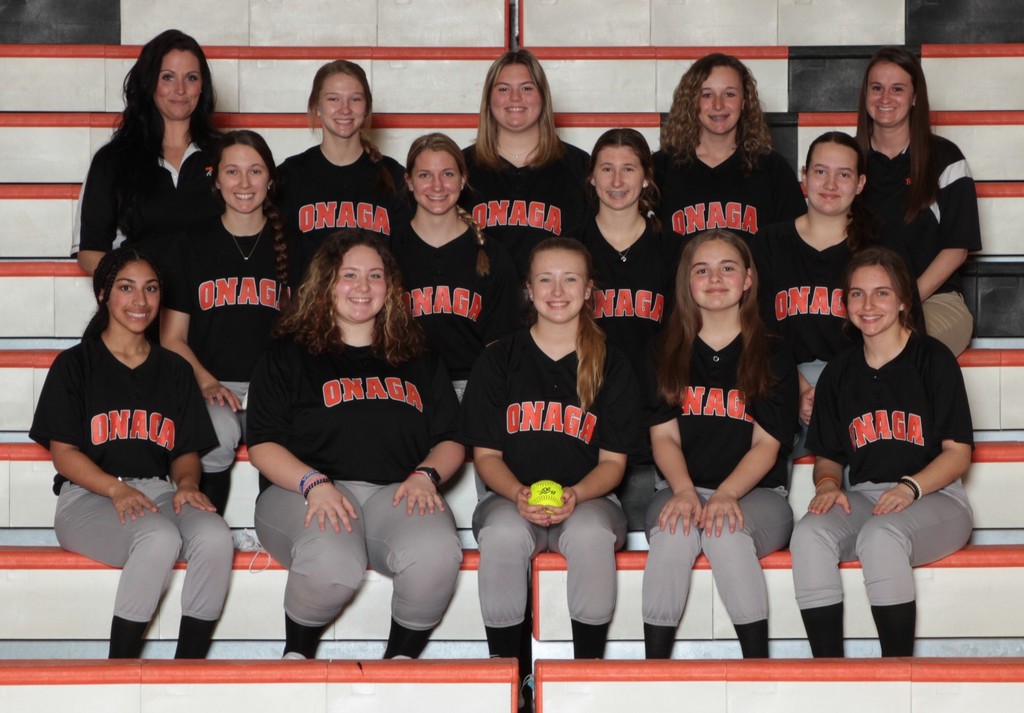 It is with a heavy heart that we share the news of the passing of a member of the USD 322 family. Pam Eshom, a long time math teacher at Onaga, passed away late last week. Mrs. Eshom came to Onaga before her actual teaching career even began, as she student taught under Rose Kuckelman at the district in 1986. She then filled the vacant math position for the 1986-1987 school year, and she stayed in that position until her retirement in 2011. She touched the lives of so many students and fellow teachers in such a positive way during her time at Onaga, creating a lot of laughs along the way, and memories we will cherish forever. Mrs. Eshom's family will honor her with a celebration of her life graveside service Friday, May 14, 2021 at 11:00 a.m. at the West Lawn Memorial Gardens Cemetery. The family will greet friends Thursday evening from 5:00pm to 7:00pm at Grace Point Church, 5400 SW Huntoon, Topeka. Memorial contributions may be made to the Auburn Elementary School Work Room and left in care of the Davidson Funeral Home.

From 2:30 - 4:30 today, Wednesday, May 12th, the Onaga High School greenhouse will be selling the last of their FFA Horticulture class's plants. They still have some nice hanging baskets and patio/porch pots available, as well as sweet potato vine (green and "black"), spike, geraniums, dusty miller, deep red pansies, petunias, cannas, ferns, aloe vera, tomatoes, peppers, and others. Prices have been reduced! 4" x 4" pots and 4-packs are now $1 each; pots of cannas and ferns are $1 each; hanging baskets and patio pots are now $7.50 each. Come get yours while the selection is good!

Good morning- As we look ahead at the weather forecast for this weekend when we have promotion and graduation, we know the likelihood of rain is high both Sat and Sunday. Therefore, our TENTATIVE plan is to decide by noon on Friday if enough of a weather window exists on Sat or Sunday (possibly different times than published) to try and have our outside graduation. If we nothing looks feasible, we will move graduation into the new gym at the same times of 11:30 for 8th grade and 1pm for seniors on Saturday. If this happens, please know that masks and temp checks will be required. Also, there will be no limits to the number of people who can attend per family. We will keep you informed and appreciate your flexibility for this special day for our seniors and 8th graders.

The high school baseball and softball teams will wrap up the 2021 regular season tonight at Grover Eddy Field in Onaga with doubleheaders against ACCHS. Both teams will have first pitch at 4:30pm against the Tigers, as they each look to improve their standings in regionals with those beginning on Monday. Good luck to both teams, GO BUFFALOES!!!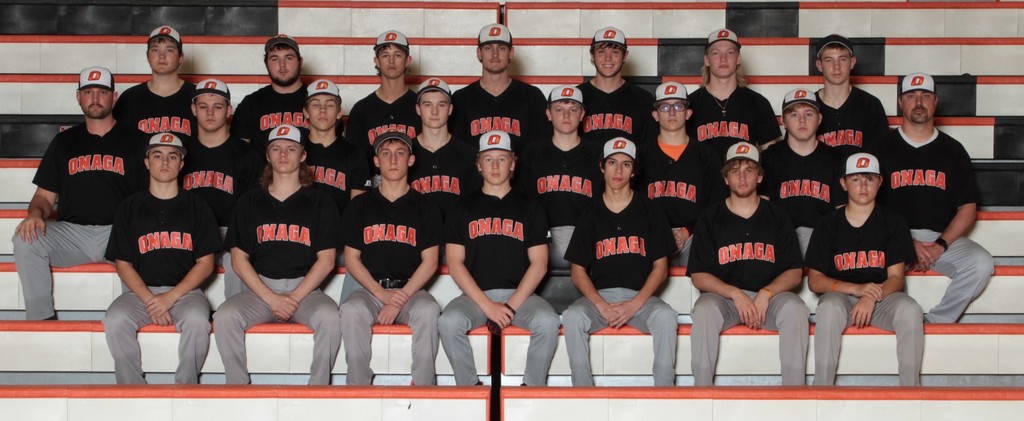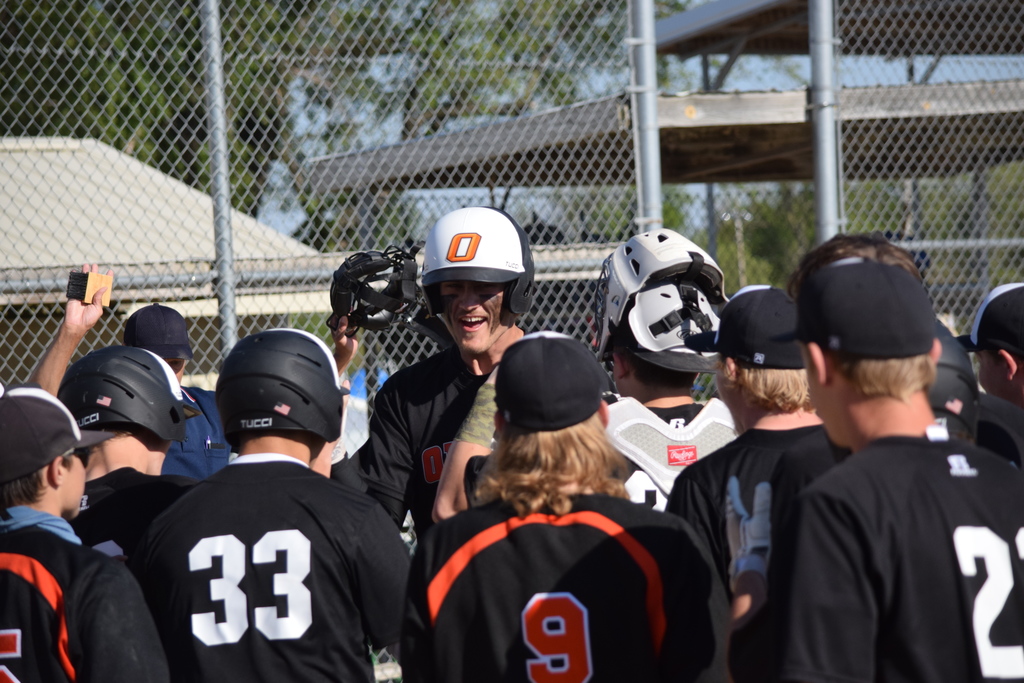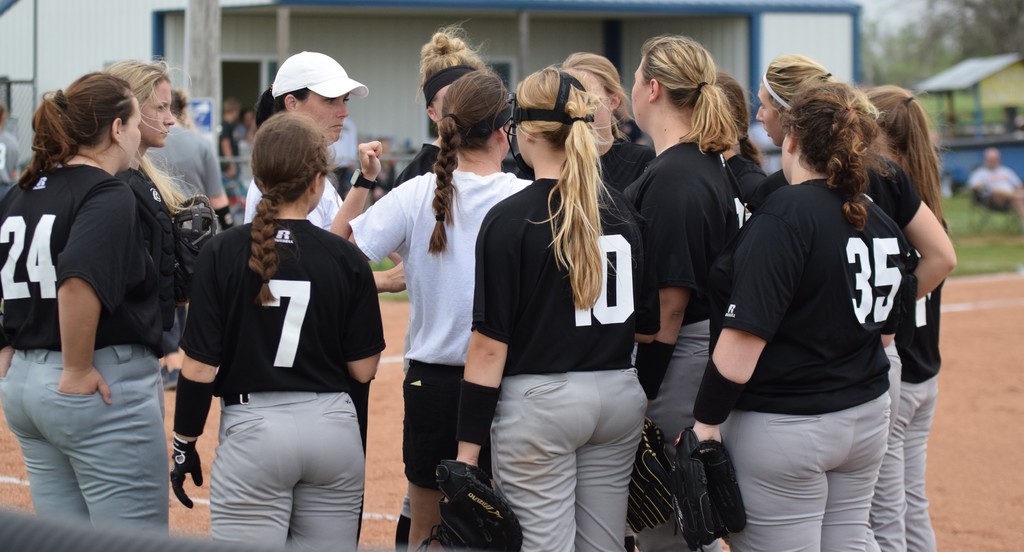 The junior class took the ACT WorkKeys in the fall on behalf of Pottawatomie County Economic Development Corporation. USD 322 would like to recognize the students receiving the Platinum ACT National Career Readiness Certificates, meaning they scored a level 6 or higher in the three testing areas (Workplace Documents, Graphic Literacy, and Applied Math). The highest level on the ACT WorkKeys is level 7. This morning at the annual academic awards assembly, Joey Marten, Casey Myers, and Colby Myers received this award. Also, Gannet Kansas has selected more than 150 high school seniors to it's 10 All-District Academic teams, in recognition of outstanding academic careers, community service and promise for the future. Senior Alexus Jeanneret has been named to the All-Distrist 6 Academic Team and received her certificate this morning as well. Congratulations Casey, Colby, Joey and Alexus!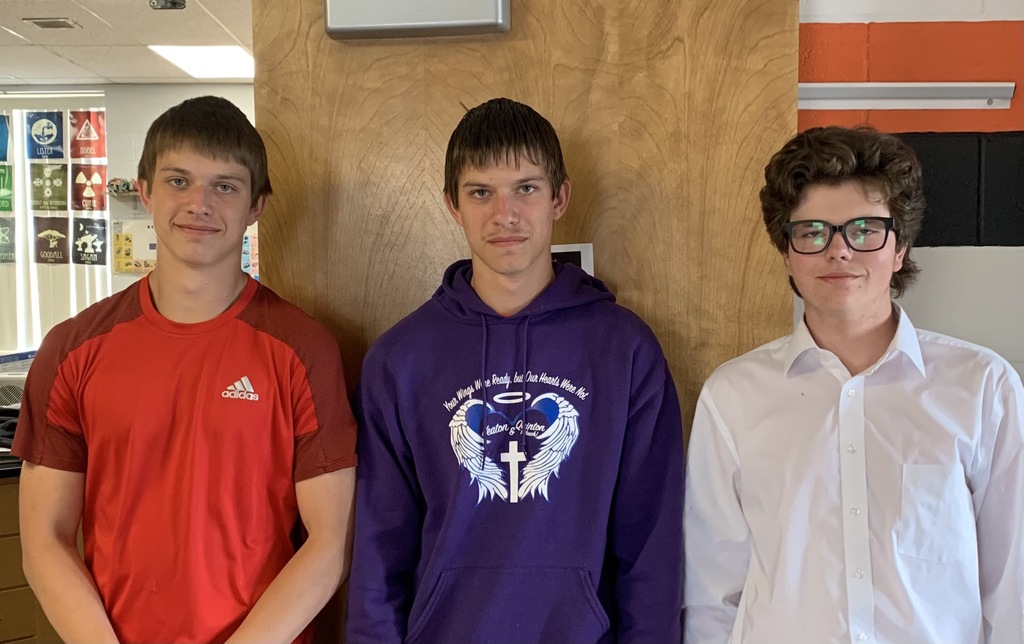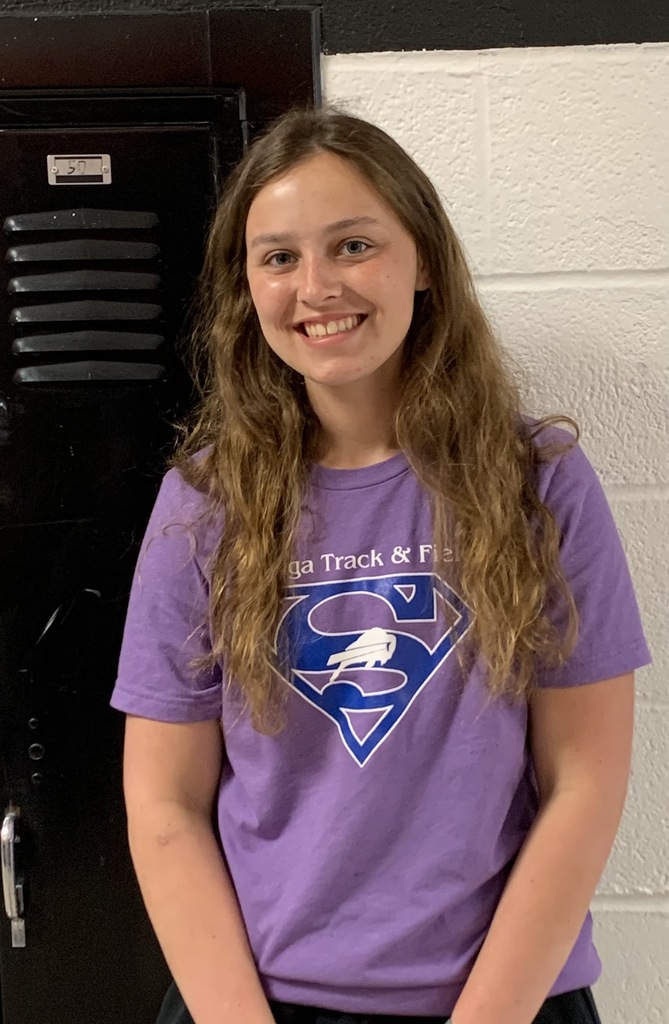 At the annual academic awards assembly this morning for grades 9-12, numerous students earned awards for their efforts this year in each of the classes offered at Onaga High School. In addition to specific class awards, the Kansas Governor's Scholar was awarded to Chloe Fischer. The award is given to the top 1% of seniors in the state of Kansas. At the same time, Ann Kocher was awarded the Kansas Governor's Scholar Teacher of Influence. Congratulations Chloe and Mrs. Kocher!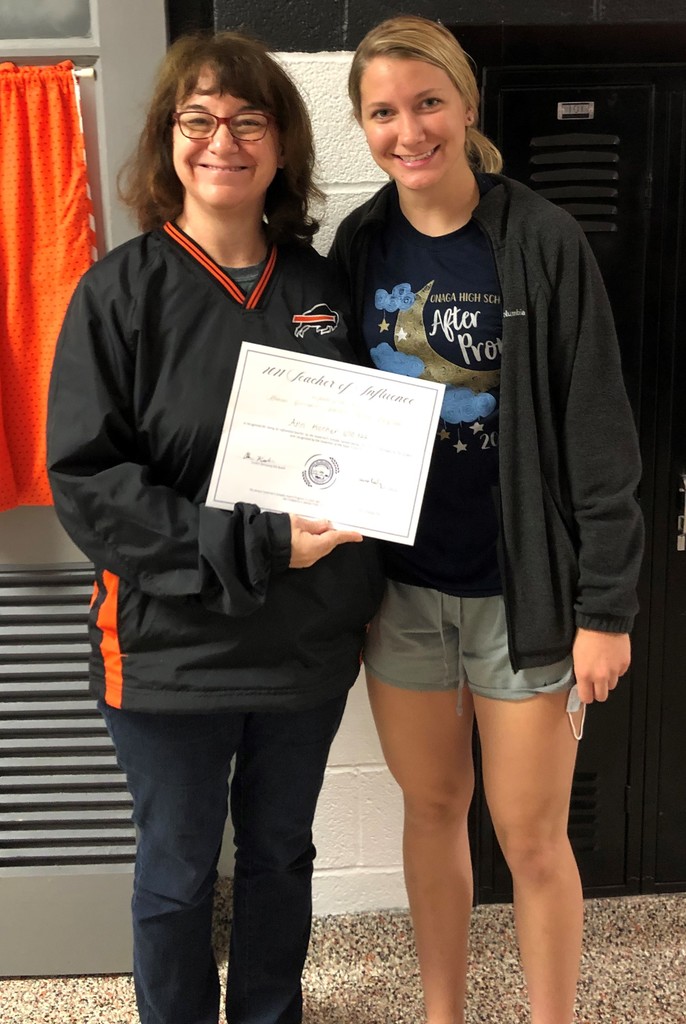 Basketball is a sport that needs more finetuning of skills than almost any other sport. To be successful, work outside of practice must be a priority. With that in mind, the Onaga High School athletics department is putting on a two-day basketball camp this summer. The camp is for boys and girls that will be in grades 4-12 during the 2021-2022 school year, and will be split up into two sessions that will be divided by age. The camp costs $20 per athlete, which covers the cost of insurance for each participant and the t-shirt that they will receive at the end of the camp. The deadline for signup is May 12th and it needs to be returned to either the grade school office, high school office, or the district office. The pictured flier is available at school, and a printable format can be found by clicking the link below.
https://5il.co/sf0f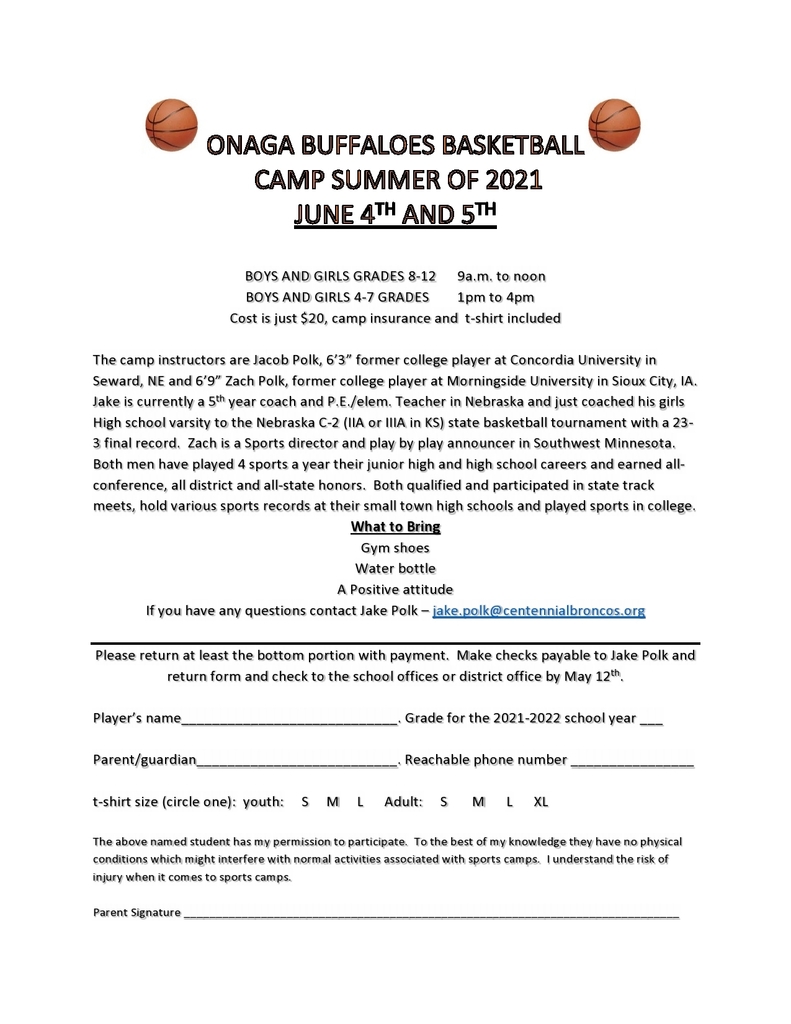 The Onaga FFA Chapter presented the Onaga Historical Society with a check of $450 to help with their building fund. At the Annual FFA Banquet and Service Auction this year, the FFA was able to raise $450. Representing the FFA were two senior officers, Chloe Fischer and Taylor Falk, who are pictured presenting the check to Debbie Berges, Linda Roggenkamp, Linda Tessendorf, Ruth Ensley-Kunz and Reva Boswell. Not pictured but present are Neva Handley and Joan Kolterman.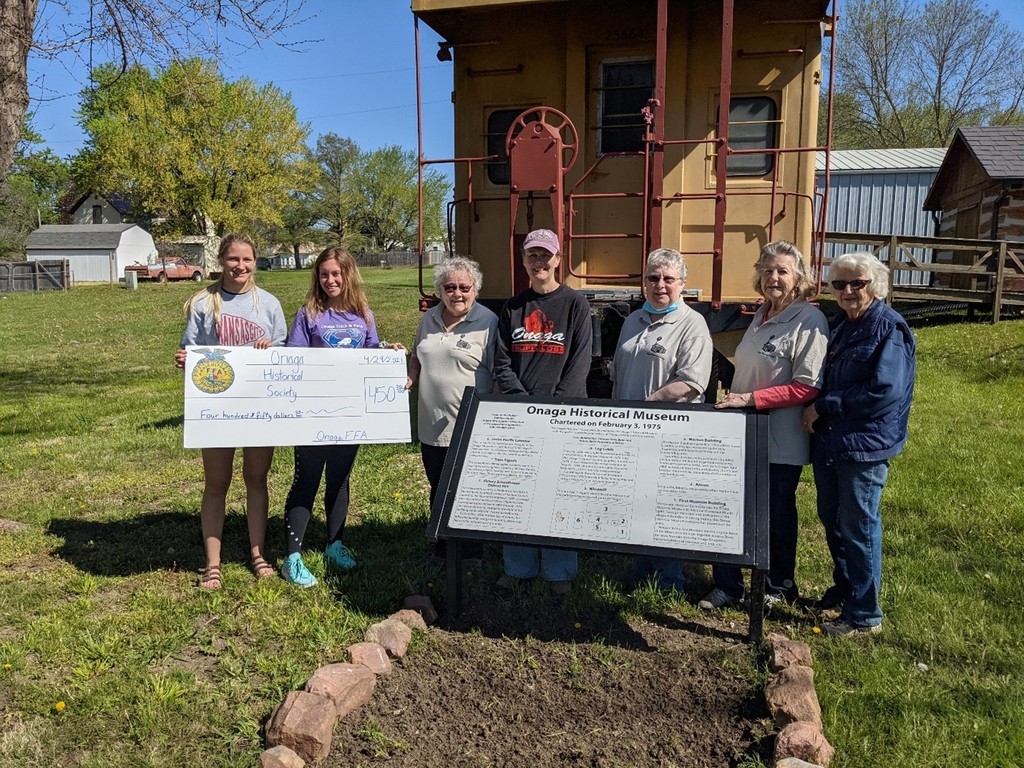 Havensville Living History Day has been moved. It will return Friday, September 10th at the Havensville Community Center. Save the date for this free event and a chance to jump into the past to remember our pioneering history. Watch for upcoming info on our Facebook event page, and our website:
www.HavensvilleLivingHistoryDay.wordpress.com

Today the class of 2021 got to open "time capsules" that they created in kindergarten. From photos, to assignments, to drawings, to letters they wrote to Santa, they had a great time stepping back in time to the beginning of their journey at Onaga as they approach the end in a week. There were a few tears and a lot of laughs. Joining them for the special moment was Mrs. Rempe, who was their teacher when they put the capsules together 12 years ago. A special thank you goes out to Lisa Meyer who held on to the capsules and pulled everything together for today. Congratulations seniors, and thank you for all you have done for USD 322!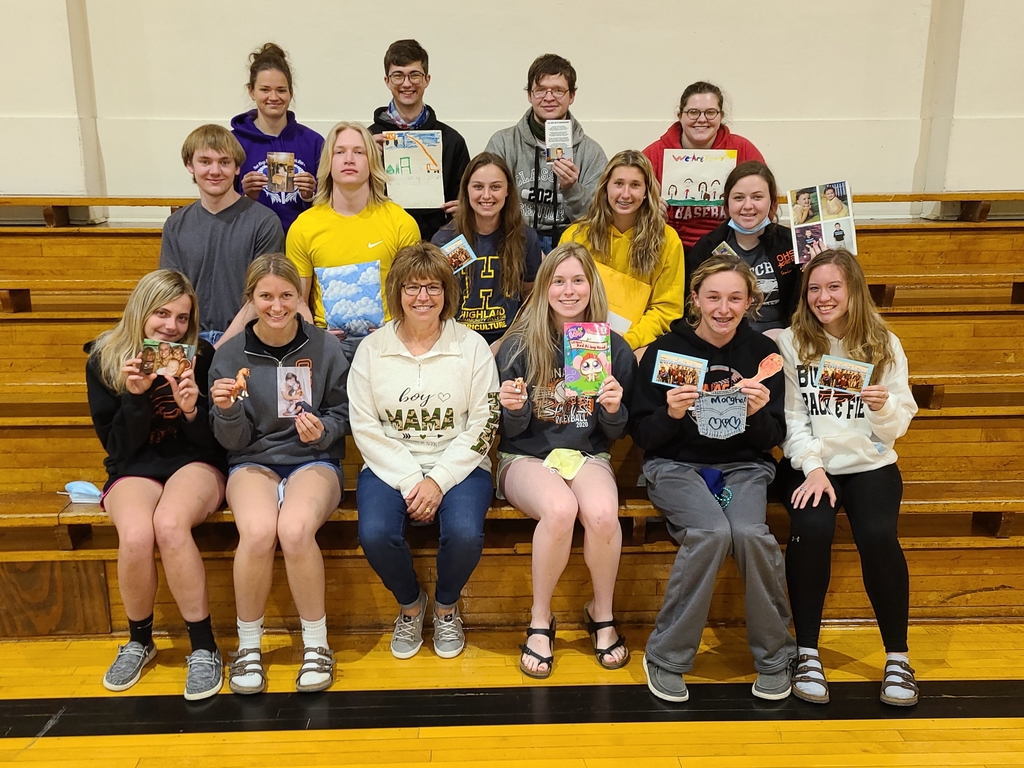 Good afternoon. Just a friendly reminder that 8th Grade Promotion is on Saturday, May 15, at 11:30 am at the football field. The HS graduation is at 1:00 pm on Saturday, May 15, at the football field. In the event of rain, the rain date for both ceremonies would be Sunday at the same times. Since it is outside there is no limit on guests. Feel free to bring your own seating if you do not plan to sit in the bleachers. Masks are encouraged but not required. Thank you.

From our counselor Michelle Krause, here is important information for struggling families about benefits that are now available to you.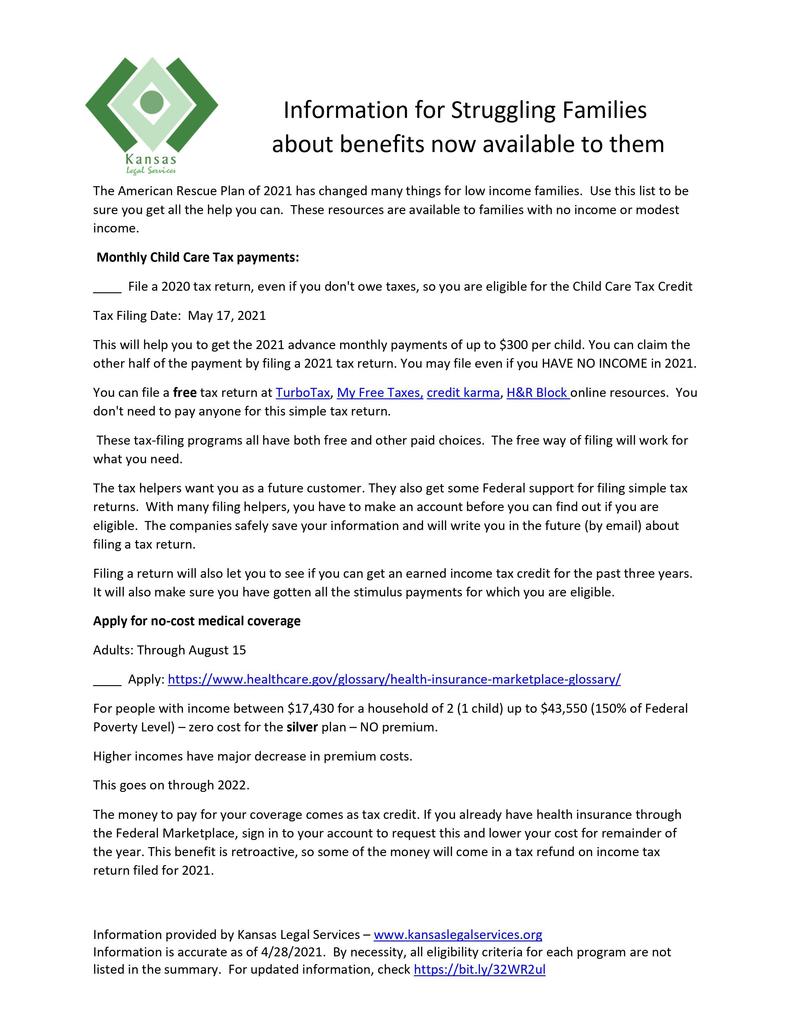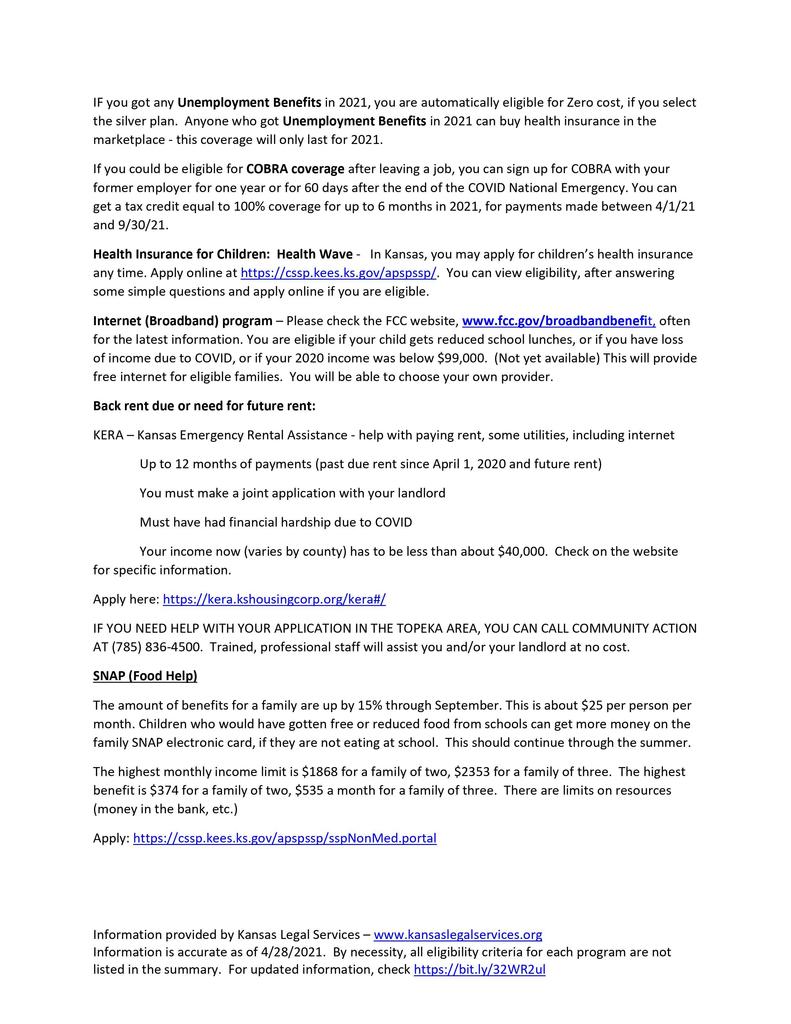 The high school baseball and softball teams are back at the friendly confines of Grover Eddy Field this afternoon as they each host Troy in league tilts. While the league only has a handful of schools that play baseball and softball, tonight still represents an opportunity for both squads to finish the first varsity seasons in school history as the top teams in the Twin Valley League. For the baseball team, a split with Doniphan West early in the season means that a sweep tonight over Troy would give them the top spot in the league. For the softball team, Doniphan West didn't have enough numbers for a team this year so tonight's game against Troy is the only league contest for either school. So while it is worth noting the number of teams who play the sport in the TVL, both Onaga squads will be playing for something significant this afternoon when they take their respective fields at 4:30pm. Each team will play a doubleheader for a league title tonight, there will be a special National Anthem singing by some talented community members who are dusting off their singing voices for the first time in a few years, and if all of that isn't enough to get everybody out to the ballparks tonight, Lion's Club cheeseburgers will be sizzling all night long. Good luck to both teams, GO BUFFALOES!!!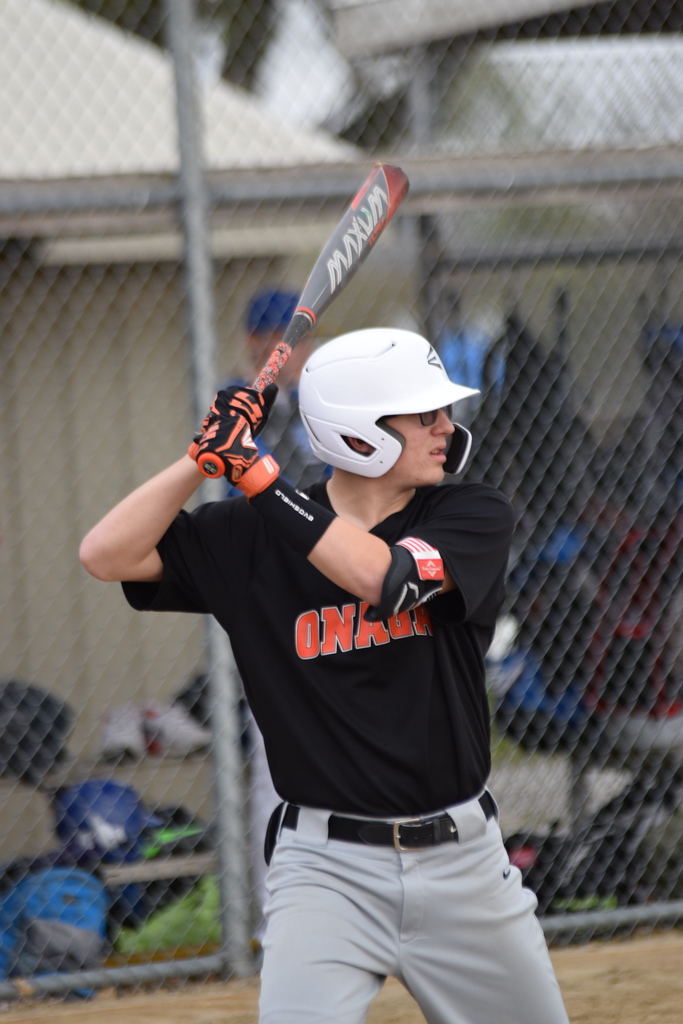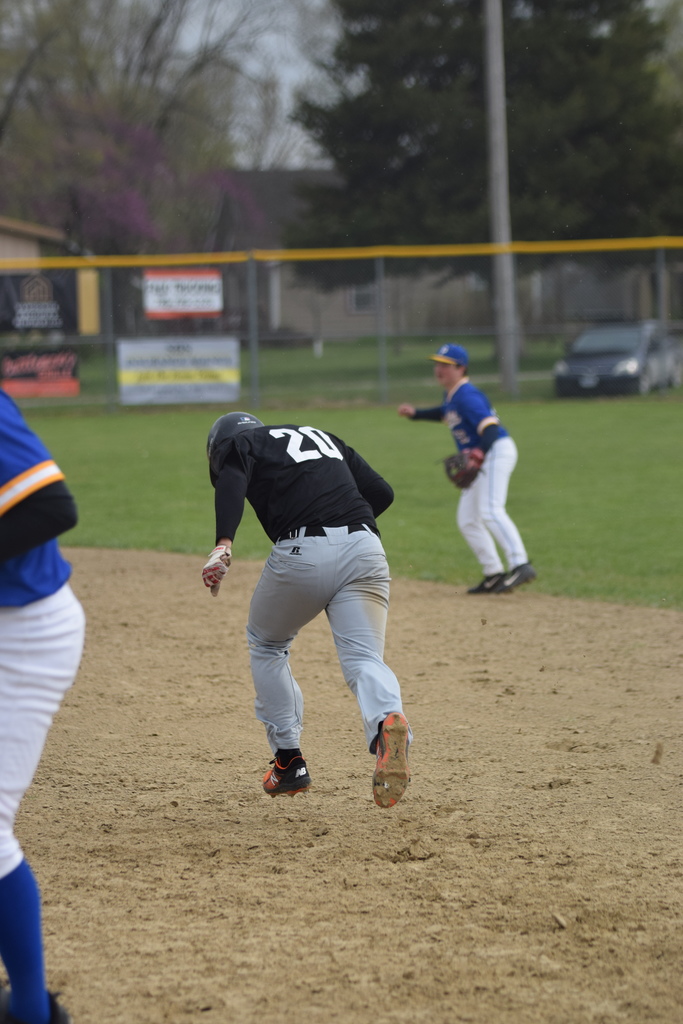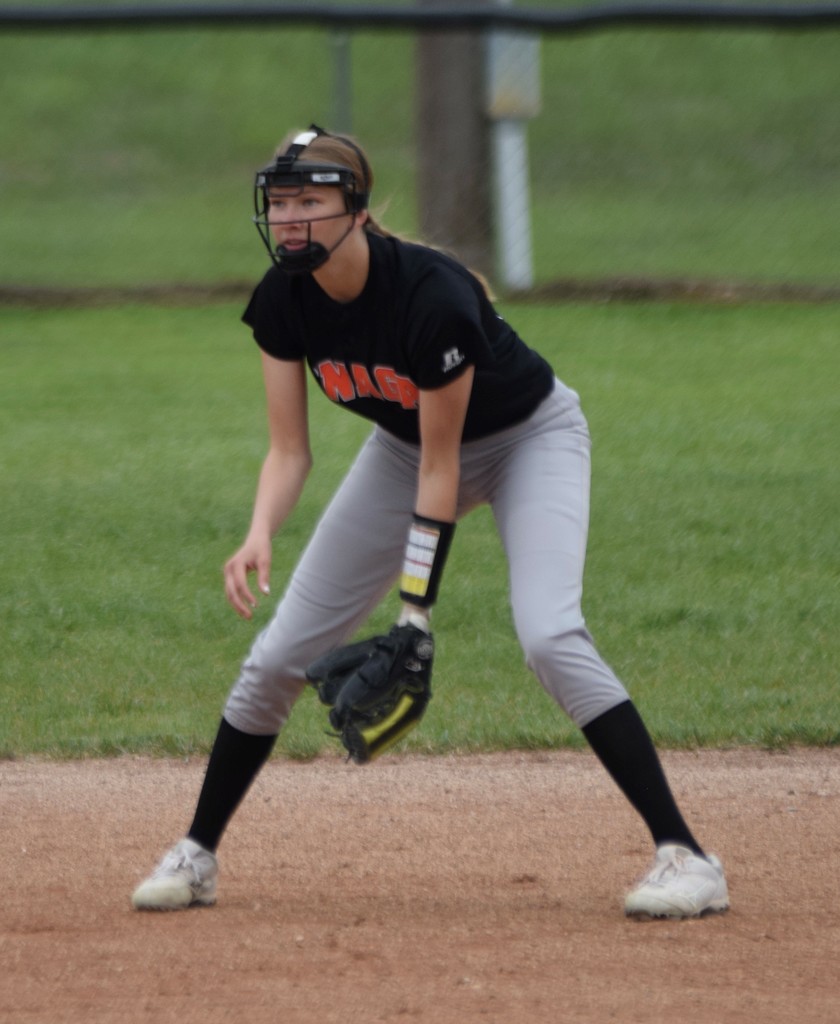 Good luck to the junior high and high school track teams today! The junior team is heading to Frankfort for their final events of the season, the Oregon Trail League meet. Field events begin at 1:00pm. Meanwhile, the high school team heads to Valley Heights for the last varsity meet of the season before the League meet next week. Field events for the high school begin at 3:00pm. Good luck to both of our track teams today, GO BUFFALOES!!!